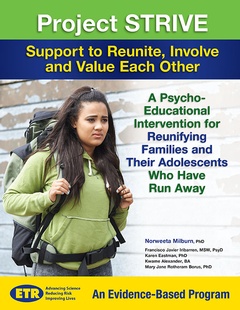 A Psycho-Educational Intervention for Reunifying Families and Their Adolescents Who Have Run Away
Project STRIVE is a 5-session family-based intervention intended to reduce sexual risk behaviors, substance use and delinquency among youth ages 12 to 17 who have recently run away from home. The intervention requires participation from both the adolescent and at least one parent. It is delivered to individual families in a community-based setting or in the family home by a trained specialist.
Project STRIVE seeks to improve the stability and quality of residential life, reduce the number of runaway episodes, and minimize HIV-related sexual and substance use risk behaviors among recently homeless adolescents. The intervention is designed to improve family functioning, reduce family conflict and build problem solving, negotiation and coping skills.
Grounded in cognitive-behavioral and family-systems theories, Project STRIVE stresses the importance of establishing a positive family climate to reduce the risk of chronic homelessness and associated adolescent risk behaviors. The program is delivered to each family individually through a series of interactive, semi-structured tasks.
For more information on Project STRIVE including a sample activity, table of contents, research, training & TA and much more, please visit the Project STRIVE section of our Program Success Center for Sexual and Reproductive Health.
Set / A560
$399.00
Includes Facilitator's Manual, youth and family handouts (on CD) and 50 HIV Facts for Teens pamphlets. ...
More Information