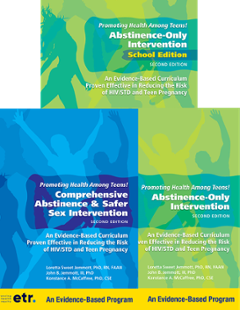 An Evidence-Based Abstinence or Abstinence Plus Safer Sex Curriculum Proven Effective in Reducing the Risk of HIV/STD and Teen Pregnancy
In the Promoting Health Among Teens! 2nd Edition curriculum, students learn about puberty, sexually transmitted disease (STDs), including HIV, and pregnancy prevention through a lively, interactive and student-centric curriculum that includes talking circles, brainstorming, roleplays, DVDs, exercises and games that make learning enjoyable.
The intervention is available in two versions. The Comprehensive version includes information about condoms and safer sex practices, while the Abstinence Only version focuses entirely on knowledge, attitudes, and skills that encourage and assist young people in implementing abstinence in their relationships. The Abstinence Only version of the program is also available in a School Edition, with 12 shorter sessions designed to fit a school schedule.
This curriculum is available in a Print version or in a Digital version with a subscription term of 1, 2 or 3 years. All versions come bundled with Virtual Training of Educators. See the Training Calendar for available dates.*
For more information, please visit the Promoting Health Among Teens! Abstinence Only or the Promoting Health Among Teens! Comprehensive section of ETR's Program Success Center for Sexual and Reproductive Health for sample lessons, tables of contents, research, adaptation guidelines, details on training, and much more.
*Please note: At this time we are not offering a PHAT-Comprehensive-specific virtual training. Instead, this bundle comes with one seat to a Making Proud Choices training, which shares many of the same activities, goals, and objectives. If you have any questions about the differences between PHAT-Comprehensive and Making Proud Choices, reach out to our training team at ebptraining@etr.org.