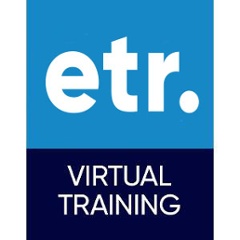 ETR's virtual Trainings of Educators (TOEs) equip sexual health facilitators with the knowledge and skills necessary to implement specific evidence-based programs with youth.
Please Note: These are stand-alone trainings that do not include the curriculum materials. To see options for purchasing certain programs that come bundled with training click here.
All trainings align with ETR's distributive learning process, an interactive experience that takes place over time. Core to this research-based approach is the acquisition of knowledge and development of skills, followed by the implementation of the program and educator self-reflection. During this process, ETR trainers engage learners through teaching strategies, interactive activities, modeling and follow-up support.
All of the following components are critical for skill development and implementation success. Make sure you can commit about 10 hours of total time to the training experience for program excellence!
Priming Activities: Learn more about the theories that ground the curriculum and the research that highlights the program's impact on the sexual health behaviors of youth. These activities, completed prior to Live Session 1, will help to get you acquainted with your program.
Live Sessions: Most of the learning happens live. Over the course of three 2.5 hour sessions spread out over three weeks, our experienced trainers will take you through the curriculum and help develop skills necessary to deliver the program. The trainer will model best practices for implementation, build comfort with the subject matter, and tackle a variety of implementation challenges and strategies.
Intersession Activities: Between each live session, guided intersession activities will help participants to keep thinking about their evidence-based program and it's implementation to continue the learning.
Practice Session: After the live sessions are over, it's time to see what you know! A practice session, or teach-back, will be assigned to each participant and various opportunities for feedback will be provided.
Follow-up Support: The training is only the beginning. We offer follow-up support for the first three months after training, including additional resources and check-ins via email.
Once you purchase a training, you will be contacted to schedule your dates. See the Training Calendar for available dates and times. (Note: A training date may be canceled if we do not receive a minimum number of participants. Registered participants will be notified of any cancellation 1 week before the training was scheduled to start.)