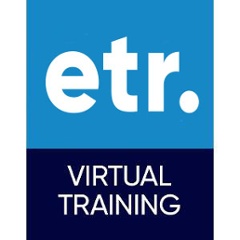 ETR's virtual Trainings of Educators (TOEs) equip sexual health facilitators with the knowledge and skills necessary to implement specific evidence-based programs with youth.
Please Note: These are stand-alone trainings that do not include the curriculum materials. To see options for purchasing certain programs that come bundled with training click here.
All trainings align with ETR's distributive learning process, an interactive experience that takes place over time. Core to this research-based approach is the acquisition of knowledge and development of skills, followed by the implementation of the program and educator self-reflection. During this process, ETR trainers engage learners through teaching strategies, interactive activities, modeling and follow-up support.
Every ETR virtual Training of Educators (TOE) has the following components:
Priming Activities prior to Live Session 1 help participants ground themselves in the theory that informed the development of the program as well as the research detailing the program's impact on the sexual health behaviors of youth.
Live Sessions take place in three 2.5-hour sessions over a 3-week period. Using engaging interactive activities along with a variety of virtual tools and strategies, the trainer models best practices for providing sexual health education and demonstrates effective teaching strategies for both in-person and virtual implementation.
Intersession Activities are completed between live sessions and take around 30 minutes. They enable participants to continue the learning process by completing various tasks such as reviewing program content and completing an Action Planning document.
Practice Session follows the completion of the third live session and is a core part of ETR's distributive learning approach. After completing the practice session, participants submit a Practice Session Reflection document to the trainer and receive their Certificate of Completion.
Follow-up Support is part of every ETR training and is provided for 3 months after the last live session. During this time, the trainer provides additional resources via email and is available to answer questions, address challenges and brainstorm solutions tailored to each participant's needs.
Once you purchase a training, you will be contacted to schedule your dates. See the Training Calendar for available dates and times. (Note: A training date may be canceled if we do not receive a minimum number of participants. Registered participants will be notified of any cancellation 2 weeks before the training was scheduled to start.)
Please note: Participants are required to commit to each component of the training to ensure that they feel confident and prepared to implement evidence-based programs with youth.