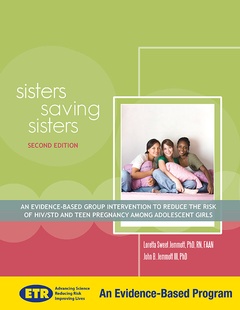 An Evidence-Based Group Intervention to Reduce the Risk of HIV/STD and Pregnancy Among Adolescent Girls
Sisters Saving Sisters, 2nd Edition, is a 5-module curriculum designed to empower teenage women to change their behavior in ways that will reduce their risk of becoming infected with HIV and other STDs, and significantly decrease their chances of being involved in unintended pregnancies.
This curriculum acknowledges that abstinence is the most effective way to eliminate these risks, but also encourages the practice of safer sex and condom use. It addresses the underlying attitudes and beliefs that many young women have about condoms, provides information and exercises that teach them how to use condoms correctly, and gives them the confidence they need to choose and negotiate safer-sex practices.
For more information on Sisters Saving Sisters 2nd Edition, including sample lesson, table of contents, research, adaptation guidelines, training & TA and much more, please visit the Sisters Saving Sisters section of our Program Success Center for Sexual and Reproductive Health.
Product Bundle / A500-PE
$599.00
Includes Facilitator Curriculum, Activity Set (handouts, posters, roleplay cards) and Curriculum DVDs. ...
More Information