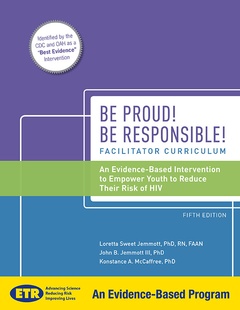 An Evidence-Based Intervention to Empower Youth to Reduce Their Risk of HIV
Be Proud! Be Responsible! is a multi-media, six-module curriculum that provides adolescents with the knowledge, motivation and skills to change their behaviors in ways that will reduce their risk of contracting HIV and other sexually transmitted diseases. The 24-page workbook, sold in sets of 5 or 30, contains all the student handouts and activities required for the curriculum.
For more information on Be Proud! Be Responsible! 5th Edition including sample lesson, table of contents, research, adaptation guidelines, training & TA and much more, please visit the Be Proud! Be Responsible! section of our Program Success Center for Sexual and Reproductive Health.
Set / A440-16
$499.99
Includes Facilitator Curriculum, Activity Set (cards, posters, handouts), Curriculum Videos and a classroom set of 30 Student Workbooks. ...
More Information
Book / A434-16-30
$90.00
Sold in sets of 5 or 30. Contains all the required student handouts and activities. ...
More Information
Training / A440-T
$999.00
ETR's virtual Training of Educators (TOE) for Be Proud! Be Responsible! equips sexual health facilitators with the knowledge and skills necessary to i ...
More Information