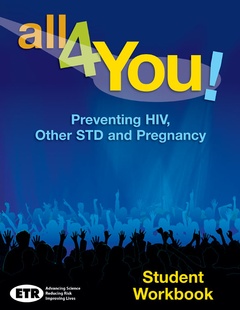 Preventing HIV, Other STD and Pregnancy Among Young People in Alternative Education Settings
All4You! is a program to prevent HIV, other STD and pregnancy among students in grades 9–12 in alternative education settings. It was designed to reduce sexual risk behaviors and specifically developed for use in alternative schools serving youth ages 14–18. The program also aims to change key determinants related to sexual risk taking, such as attitudes, beliefs and perceived norms. It consists of both skills-based classroom lessons and 5 service-learning visits in the community.
For more information on All4You! including a sample lesson, table of contents, research, adaptation guidelines, training and TA and much more, please visit the All4You! section of our Program Success Center.
Book / A263-15-30
$199.00
Sold in sets of 5 or 30. Contains all the required student handouts and activities. ...
More Information