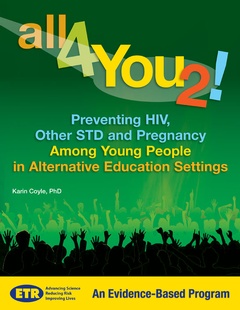 Preventing HIV, Other STD and Pregnancy Among Young People in Alternative Education Settings
All4You2! is a program to prevent HIV, other STD and pregnancy among students ages 14–18 in alternative education settings. The primary goal of the program is to reduce the risk of HIV, other STD, and pregnancy by reducing the number of students who have unprotected sexual intercourse (either by increasing condom use and use of other protection or reducing sexual intercourse). The program also aims to change key determinants related to sexual risk taking, such as attitudes, beliefs and perceived norms.
For more information on All4You2! inlcuding a sample lesson, table of contents, research, adaptation guidelines, training and TA and much more, please visit the All4You2! section of our Program Success Center.
Book / A268-15-30
$199.00
Sold in sets of 5 or 30. Contains all the required student handouts and activities. ...
More Information
Product Bundle / A261-PE
$699.00
Includes Teacher's Guide, classroom set of 30 Student Workbooks, pamphlets and DVDs. ...
More Information