Youth Curricula
Making Proud Choices - Spanish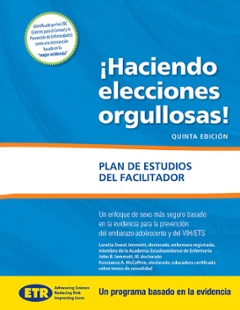 Making Proud Choices! 5th Edition in Spanish
The Spanish translation of the 5th edition of Making Proud Choices! An Evidence-Based, Safer-Sex Approach to Teen Pregnancy and HIV/STI Prevention is an 8-module curriculum that provides adolescents with the knowledge, confidence and skills necessary to reduce their risk of sexually transmitted infections (STIs), HIV and pregnancy by abstaining from sex or using condoms if they choose to have sex. It is based on cognitive-behavioral theories, focus groups and the authors' extensive experience working with youth.
The Student Workbook for youth is available in Spanish. The DVDs included with the curriculum are presented in English with Spanish subtitles available.
For more information on Making Proud Choices! 5th Edition including sample lessons, tables of contents, research, adaptation guidelines, and more information about training, please visit the Making Proud Choices! section of ETR's Program Success Center for Sexual and Reproductive Health.
Set / A400SP
$648.00
Includes Facilitator Curriculum, Activity Set (cards, posters, handouts), Curriculum DVDs and classroom set of 30 Student Workbooks. ...
More Information
Book / A402SP-16-30
$90.00
Sold in sets of 5 or 30. Contains all the required student handouts and activities. Compatible with both the community and school editions. ...
More Information