Youth Curricula
Making Proud Choices - California Edition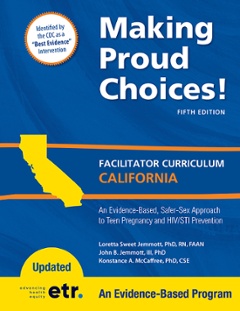 An Evidence-Based, Safer-Sex Approach to Teen Pregnancy and HIV/STI Prevention
Updated for 2021!
Making Proud Choices! California Edition is a 10-module adaptation of the original evidence-based Making Proud Choices! program designed to meet the requirements of the California Healthy Youth Act. The curriculum can be adapted to create a school version with 15 shorter modules that will fit a school schedule. This program can also be used by agencies and schools that wish to provide additional comprehensive sexual health education content to the youth they serve.
The Making Proud Choices! curriculum provides adolescents with the knowledge, confidence and skills necessary to reduce their risk of sexually transmitted infections (STIs), HIV and pregnancy by abstaining from sex or using condoms if they choose to have sex. The California Edition of the program includes a pre-module on healthy relationships and sexual identity, as well as additional content on affirmative consent, dating violence and sexual exploitation.
This curriculum is available in a Print version or in a Digital version with a subscription term of 1, 2 or 3 years. All versions come bundled with Virtual Training of Educators. See the Training Calendar for available dates.
The videos included with the curriculum are presented in English with Spanish subtitles available.
For more information, please visit the Making Proud Choices! section of ETR's Program Success Center for Sexual and Reproductive Health for a sample lesson, table of contents, research, adaptation guidelines, details about training, and much more.