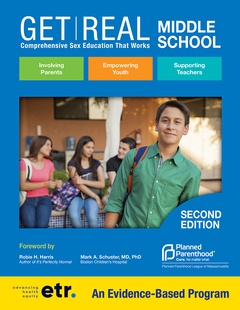 Comprehensive Sex Education That Works (English & Spanish)
Now available in Spanish!
Get Real Middle School, second edition, is a comprehensive evidence-based sexuality education curriculum developed by Planned Parenthood League of Massachusetts that empowers students in grades 6, 7 and 8 to delay sex and protect themselves from pregnancy and STIs. There is also a 1-year, evidence-informed Get Real High School curriculum.
For a sample lesson, click here.
For a Spanish sample lesson, click here.
The Get Real program:
Emphasizes social and emotional skills as key components of healthy relationships and responsible decision making.
Promotes abstinence from sex as a healthy and safe choice for middle school students and provides a comprehensive understanding of sexual health, sexuality, and protection methods.
Supports parents and other caring adults as the primary sexuality educators of their children with take-home family activities that encourage dialogue between students and the caring adults in their lives, and includes access to the Get Real for Parents mobile website, so families can complete these activities directly on a phone, laptop or tablet.
Is developmentally appropriate, inclusive of LGBTQ+ youth, trauma-informed, and aligned to the National Health Education Standards using the CDC's Health Education Curriculum Analysis Tool.
A longitudinal study conducted by Wellesley Centers for Women showed that Get Real works to delay sex among middle school students, reinforces family communication, and improves skills for healthy relationships.
Get Real also offers scheduled regional training events to help educators replicate and implement Get Real with fidelity. Training includes pre-work in the form of a self-paced, online course (approximately 10 to 12 hours over 3 weeks); two-day, in-person skill-based instruction with a Get Real trainer; technical assistance follow-up sessions; and access to the Get Real Educator Resource Center.
For more information on Get Real Middle School including sample lessons and content, table of contents, research, adaptation guidelines, training & TA and much more, please visit the Get Real section of our Program Success Center for Sexual and Reproductive Health.
Set / H600
$549.99
Includes Teacher's Guide, 30 Student Workbooks, Activity Kit, Protection Methods Demo Kit and access to Get Real for Parents website. ...
More Information