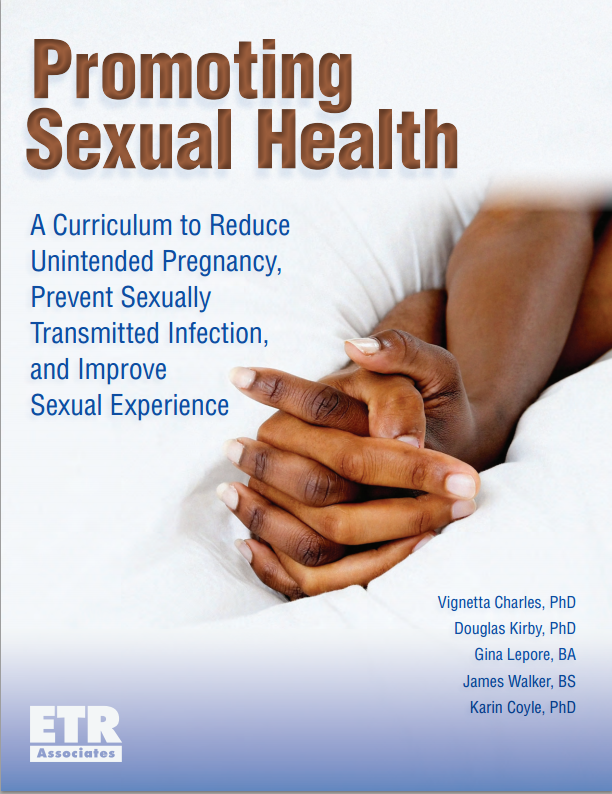 Promoting Sexual Health is an innovative curriculum for young adults that is designed to reduce unintended pregnancy; prevent sexually transmitted infections, including HIV; and improve sexual experience. It was published in 2011, and is available as a free download from ETR.
Category
Program Features
Setting
Colleges, clinics
Program Length
8 hours | 4 weeks
4 sessions total
Age Group
Ages 18–24
Look Inside
Overview | Description | Population | Authors
Overview
The Promoting Sexual Health curriculum is written for sexuality and STI/HIV educators who work with young adults 18-24 years old. This group has the highest unintended pregnancy and STI rates of any age group. Historically, sexual health curricula for this audience have focused primarily on preventing unintended pregnancy and or STI/HIV. Promoting Sexual Health (PSH) adds a third goal, improving the quality of sexual experience.
Description
Promoting Sexual Health (PSH) was specifically developed for use with young adults ages 18–24.
The curriculum has three goals:
Reducing Unintended Pregnancy. PSH increases awareness that having sex without contraception is likely to lead to pregnancy over time, addresses the common obstacles to using contraception consistently and correctly, and emphasizes LARCs (long-acting reversible contraceptives).

Reduce STI/HIV Transmission. PSH increases the perception of risk of contracting STI/HIV when having unprotected sex with multiple and concurrent sexual partners; addresses the barriers to using condoms and having fewer partners; and emphasizes condom use, mutual monogamy and STI testing.

Improve the quality of sexual experience. PSH helps young adults become clearer about what they do and do not want to do sexually under what conditions and with whom; increases their skills to communicate what they do and do not want to do with their partners; and increases their skills to please their partners.
Activities include group discussions, brainstorming, games, small-group work, demonstrations and roleplays.
Populations Served & Setting
Promoting Sexual Health is intended for use with sexually active young adults ages 18–24. It was designed to be implemented in four 2-hour sessions.
About the Authors
ETR and the authors of this curriculum have a long history of developing and evaluating curricula that reduce sexual risk by helping people avoid unwanted sex, reduce their number of sexual partners and increase condom and contraceptive use.
Vignetta Charles, PhD, is Chief Executive Officer at ETR. Her research emphasis is on behavioral health related to the intersection of HIV/AIDS, sexual health and mental health. She came to ETR from AIDS United, where she served as Senior Vice President, guiding strategic programming for the organization, garnering public and private resources for programs, leading efforts to measure and document program outcomes, and developing an expanded portfolio on the translation of science to community. Prior to her work at AIDS United, Dr. Charles developed and rigorously evaluated innovative, theory- and evidence-based sexual and reproductive health and HIV prevention programs. She has focused her professional work on issues that disproportionately impact politically disenfranchised communities, with a focus on urban sexual and reproductive health and an emphasis on HIV prevention.
Douglas Kirby, PhD, was a senior research scientist at ETR and a pillar in the field of adolescent sexual and reproductive health. He was one of the world's leading experts on school and community programs to reduce sexual risk taking, and dedicated his career to promoting sexual and reproductive health among young people through his writing, teaching, and research. He authored over 150 articles, chapters and monographs on these programs, and frequently spoke nationally and internationally on his work. He served as a scientific adviser to the CDC, USAID, WHO, UNFPA, UNESCO, and the National Campaign to Prevent Teen and Unplanned Pregnancy. One of Dr. Kirby's goals in life was to help make the world a better place. He will always hold a position of influence in the field of sexual and reproductive health and will continue to serve as an inspiration to others in the field for years to come. ETR established the Kirby Summit and Kirby Summer Internship in his honor.
Gina Lepore, MEd, is a trainer and TA provider for numerous community-based agencies. Her special interests include affirmative consent, sex-positivity, and diversity and inclusivity, especially in K-12 and college level sexuality education programming and curricula. She recently co-authored the ETR supplement Teaching Affirmative Consent and has designed trainings on this content for K-12 Title IX Coordinators, school administrators and teachers, and community-based educators. In her tenure at ETR, she has served in various capacities (researcher, project coordinator, data collection coordinator, curriculum developer, trainer) on numerous multi-year program evaluation, technical assistance and research projects.
James Walker, NEED BIO FOR JAMES
Karin K. Coyle, PhD, is Chief Science Officer at ETR , Scotts Valley, California, where she serves as the lead investigator on a number of research and evaluation projects. She specializes in the development and evaluation of health promotion programs, particularly HIV, other STD and pregnancy prevention programs. Over the past 15 years she has co-authored four research-based programs (Safer Choices, Draw the Line/Respect the Line, All4You!, and All4You2!), and has served as a principal or co-principal investigator on a number of school-based randomized trials to test the effectiveness of HIV, other STD and pregnancy prevention programs for youth. Her current work focuses on adolescent relationships and their influence on sexual risk behavior and HIV and STI risk. She is the author of numerous professional articles in the field of health and sexuality education research.