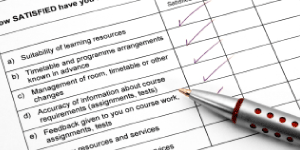 ETR has a long history of conducting rigorous evaluations in the field of health promotion, with a special emphasis on sexual and reproductive health. Our mission is to provide quality evaluation services to help health, human services and education providers assess and improve their programs and build their capacity to provide effective, cost-efficient and culturally appropriate services within their communities.
We conduct process and outcome evaluation of programs and policies, using both quantitative and qualitative approaches. Our staff members have training in evaluation methodology as well as content expertise. We can work with clients to help them improve the quality of their own evaluations or serve as external, independent evaluators.
---
Evaluation Services
ETR carries out evaluations using a range of models and methods. We work collaboratively and value partnerships with our clients, and consider capacity building an essential element of our work. We currently serve as external evaluators for multiple teen pregnancy and HIV prevention projects funded through the CDC, Office of Adolescent Health and Family and Youth Services Bureau, among others.
Program Evaluation Services include:
Evaluation planning and design (e.g., creating a design to address your evaluation questions of interest)
Implementation evaluation
Collection systems for federal performance measures ( e.g., demographics, fidelity, dosage)
Continuous quality improvement processes
Evaluation tool development (e.g., surveys, interviews, assessments, online logs)
Logic models and work plans with effective goals and SMART (Specific, Measurable, Achievable, Realistic, Time) objectives
Data collection, management and analysis (quantitative and qualitative, including large-scale surveys)
Other services tailored to your specific needs
ETR has particular expertise in conducting Randomized Controlled Designs (RCTs), including:
RCT planning and management, including getting necessary approvals (e.g., IRB, local approvals)
Developing rigorous research questions
Evaluation design for the research questions of interest
Sampling and power analyses
Evaluation tool development (e.g., surveys, interviews, assessments, online logs)
Collection systems for federal performance measures ( e.g., demographics, fidelity, dosage)
Recruitment (site and/or participants)
Assignment of participants to study groups
Consent and assent procedures
Data collection (e.g., paper-pencil surveys, handheld devices, online)
Data analyses, including multi-level analyses for clustered designs
Report writing and other dissemination activities
---
Evaluation Technical Assistance
Based on best practice, ETR experts also deliver evaluation technical assistance services in variety of areas.
We provide support related to:
Evaluation planning
Developing and using evaluation tools
Collecting qualitative and quantitative evaluation data
Data analysis
Sharing data with stakeholders and others
Our tailored, data-driven TA can be delivered through face-to-face meetings, conference calls, written materials, online discussions, web-based materials and email.
For more information, contact one of our evaluation experts through our Program Support Help Desk >>
---
Expertise
ETR is known for over 30 years of highly-respected evaluations in the field. We bring these values to our evaluation services and partnerships:
Commitment to science, sustainability and client empowerment
Experienced, multidisciplinary staff with a wide range of expertise and interests within evaluation, including evaluation specialists, qualitative and quantitative method specialists, data managers and analysts and data display experts.
Expertise in conducting evaluations in a array of settings (school and community based) and with multiple populations (from young children to young adults).
A client-centered orientation, with a high value placed on building relationships, sustainability and client empowerment
Data-visualization capacities that help stakeholders disseminate and use their data
Innovative approaches that blend new technology with competent, grounded science
For more information, contact one of our evaluation experts through our Program Support Help Desk >>