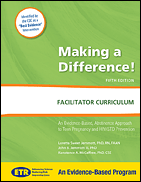 Making a Difference! An Evidence-Based, Abstinence Approach to Teen Pregnancy and HIV/STD Prevention is an 8-module curriculum that provides young adolescents with the knowledge, confidence and skills necessary to reduce their risk of sexually transmitted diseases, HIV and pregnancy by abstaining from sex. The program is also available in a 13-module School Edition, with shorter sessions to accommodate school scheduling.
Category
Program Features
School Edition
Setting
Community based
School based

Program Length

8 hrs/yr | 1 yr
8 sessions total
8 hrs, 40 min./yr | 1 yr
13 sessions total
Age Group
Ages 12–14
Middle School
Look Inside
Note: Ideally, young people will receive sexual health education that targets knowledge, attitudes and skills related to both abstinence and safer sex practices such as condom use and contraception. However, for settings in which this approach is not permissible, an evidence-based abstinence-focused program can provide adolescents with support and strategies for choosing abstinence and resisting sexual pressures. Making a Difference! lessons do not include information on condoms or other forms of birth control.
For a prevention program that also addresses knowledge, attitudes and behaviors related to condoms and contraception, please see Making Proud Choices!