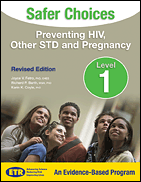 Safer Choices is a 2-year, multi-component STD, HIV, and teen pregnancy prevention program for high school students. The program aims to reduce the frequency of unprotected sex by reducing the number of sexually active students and increasing condom use and other methods of pregnancy protection among students who are sexually active. It seeks to motivate behavioral change by addressing factors such as attitudes and beliefs (including self-efficacy), social skills (particularly refusal and negotiation skills), functional knowledge, social and media influences, peer norms and parent/child communication.
National Recognition
Safer Choices has been chosen as an effective evidence-based program by national organizations recognized as authorities on teen pregnancy prevention, including Emerging Answers 2007 and What Works 2010: Curriculum-Based Programs That Help Prevent Teen Pregnancy, The National Campaign to Prevent Teen and Unplanned Pregnancy; and Science and Success, Second Edition: Sex Education and Other Programs that Work to Prevent Teen Pregnancy, HIV & Sexually Transmitted Infections, 2008, Advocates for Youth.