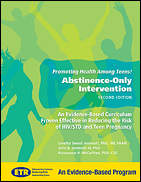 In the Promoting Health Among Teens! Abstinence Only curriculum, students learn about puberty, sexually transmitted diseases (STDs), including HIV, and pregnancy prevention through a lively, interactive and student-centric curriculum, that includes talking circles, brainstorming, roleplays, DVDs, exercises and games that make learning enjoyable. The School Edition is designed to work with a classroom schedule. The intervention focuses entirely on knowledge, attitudes and skills that encourage and assist young people in implementing abstinence in their relationships.
Category
Program Features
School Edition
Setting
Community based
School based

Program Length

8 hours/year | 1 year
8 sessions total
9 hours/year | 1 year
12 sessions total
Age Group
Ages 12–14
Middle School
Look Inside
Note: Ideally, young people will receive sexual health education that targets knowledge, attitudes and skills related to abstinence and safer sex practices such as condom use and contraception. However, for settings in which this approach is not permissible, an evidence-based abstinence-focused program can provide adolescents with support and strategies for choosing abstinence and resisting sexual pressures. This version of Promoting Health Among Teens! is an abstinence-only program. The lessons do not include information on condoms or other forms of birth control.
For a program that also addresses knowledge, attitudes and behaviors related to condoms and contraception, please see Promoting Health Among Teens! Comprehensive.