Narinder Dhaliwal: Working to End Tobacco's Toll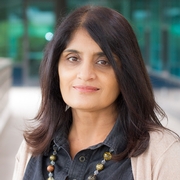 By ETR | August 8, 2016
For most of her life, Narinder Dhaliwal has been an enthusiastic advocate for tobacco control. "I watched my grandfather slowly kill himself by smoking one or two packs a day," she explains.

Some of the effects left a strong impression on Narinder. "His fingers on both hands were stained yellow. His lips were close to black. He was always surrounded by the smell of stale tobacco."
Her grandfather paid the highest possible price for smoking. "He worked his whole life at the Ford car factory. He finally retired at age 60. He never got to cash his first pension check. He died of a massive heart attack while on holiday in India. That check arrived after he died."
It is no surprise that, after this experience, Narinder has brought a particular devotion to her work as Director of ETR's Tobacco Education Clearinghouse (TECC).
TECC Shares the Message
TECC has been hard at work for over 25 years. The project offers a wide range of products in many languages to programs across the nation, as well as managing all of California's tobacco education materials.
California recently raised the age for purchase of tobacco products to 21. This brought a need for new materials to educate California retailers, law enforcement and the general public. The TECC team has been working diligently on translating, printing and mailing the materials required by this new law.
"We're also working on new content," says Narinder. "We're covering topics ranging from secondhand smoke to tobacco sales, from e-cigarettes and vaping devices to smoke-free homes and parks, and much more. We've also collaborated with tribal entities throughout the region to build support for smoke-free casinos."
Addressing Vaping and Hookahs
California and the United States as a whole offer a rich blend of nationalities and cultures. Specific populations have been targeted by tobacco companies, including Native American, African American, Latino and Asian. Ad campaigns have also focused on low-income neighborhoods and the LGBTQ community. These communities experience disparities in tobacco control, including higher rates of use and more severe health effects. TECC has distributed an impressive range of both general and population-specific prevention materials to communities across the nation.
"The rate of smoking in California is now at an all-time low, something we're proud of as an agency and as a state," says Narinder. "But just when we feel we're making the difference that counts, we get smacked with more surprises—e-cigarettes, vaping, e-hookahs and new ways to get our youth hooked!"
The nation will see wide-reaching consequences if tobacco use rates begin to rise. "Just about everyone has been touched by tobacco at some point," Narinder points out. "It's affected their own health, or, like me, that of someone they love. I'm working toward the day when this is no longer the case.
"I'm truly honored to work with the dedicated partners and colleagues of TECC," Narinder declares. And ETR is honored to have Narinder in our organization.
Narinder Dhaliwal, MA, is the Project Director of ETR's Tobacco Education Clearinghouse (TECC) and California's Clean Air Project (CCAP). She works with tobacco control programs throughout California's 61 health jurisdictions. She recently received the Pauline Murillo Industry Leader Award from the California Nations Indian Gaming Association (CNIGA). You can reach her at narinderd@etr.org.