In Search of Quality Computer Science Education for All: A New Framework Can Help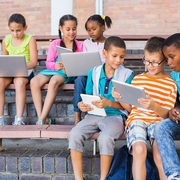 By Jill Denner, PhD | October 17, 2016
Senior Research Scientist, ETR
Computer science for all? If you've been reading the headlines, you have seen the explosion of articles. Proponents argue we must offer computer science (CS) education to all students, in a combination of school and afterschool programs. This movement has been gaining momentum over the last ten years, fueled to a great extent by the National Science Foundation. It culminated in President Obama's announcement in early 2016 of his CS4All initiative.
At first glance, making CS available to all sounds like a great idea. But there have been concerns about what this looks like in practice.
Questions I hear include: Will efforts to increase computer science in schools take away resources for other valuable programs like art, music and math? Do we really want all children to become computer scientists? Does CS for All just mean more resources are given to the schools and communities that already have teachers who know how to teach CS, and parents who work in CS? And with so many new programs and tools out there, how can we be sure that what our students are being taught is of the highest quality?
Basic Ways of Thinking: A Skill All Students Need
Others have written responses to these questions and explained that the expectation in these efforts is not that all children become computer scientists. But learning computer science concepts and practices can connect directly to the arts, literature, math and other core subjects. It involves basic skills and ways of thinking that all students should obtain in school—for example, to be engaged as active citizens, to have the necessary skills to participate in an increasingly tech-based economy, to build thinking styles that allow people to address a range of problems and challenges, and to perform better in subjects such as algebra.
Providing Opportunity to Young People
I share the concerns about whether new efforts will perpetuate the diversity gap. While enrollment in CS at universities has increased, student diversity has not. And while the number of programs that claim to teach CS has skyrocketed, very few are grounded in or backed by research or evaluation, or designed with diversity and inclusion in mind.
So adults are debating whether we are pushing too many young people into CS fields, or if we are setting up programs that just bring more of the same types of people into CS. Meanwhile, there are many young people who have the potential and interest to do CS but have not had encouragement or opportunities. The issue is not how to "get" more students, and more diverse students, into CS; it is how to create the right learning environments in every community.
How do we do that? By making sure that the growing number of efforts to add CS into schools and afterschool programs are well informed by CS education research and practice, teacher training and support, and a perspective of diversity and inclusion.
Enter the New Computer Science Education Framework for K-12!
Starting today, a new tool has become available to help ensure that quality CS is provided for our children. It is A Framework for K-12 Computer Science Education. This framework represents an intense effort led by Code.org. It was guided by the Association for Computing Machinery, Computer Science Teachers Association, the National Integrated Cyber Education Research Center, the National Math + Science Initiative, and dozens of additional writers and advisors.
The framework describes the key concepts and practices that children should obtain at each grade level. It is a critical resource for states, school districts, schools and teachers as they create their own CS standards, curriculum and professional development.
The creators of the framework have kept an eye on issues of equity and inclusion. There is a chapter that describes how concerns about the lack of diversity in CS drove the development of the framework, and how those considerations should be part of how the framework is applied or used. They recognize that teachers are a critical piece in implementing a successful CS4All strategy, and efforts are underway to train teachers (for example, check the resources at the Computer Science Teachers Association and the National Science Foundation).
Do you want to get involved in the national conversation? Do you want to ensure that the CS being added to your local schools and programs really is "for all?" Be sure to look over the framework, and check the resources in the box below.
You can learn more about ETR's work in diversity in computer science and related STEM fields here.
Resources: CS for All—Really!
Jill Denner, PhD, is a Senior Research Scientist at ETR. She does applied research with a focus on increasing the number of women, girls and Latino/a students in computing fields. She is nationally recognized as an expert in strategies to engage girls/women and Latino/a students in computer science, and served as an Advisor on the Framework for K-12 Computer Science Education. She can be reached at jilld@etr.org.