WILLOW Women on the HIV Front Lines, Part 2: Alesia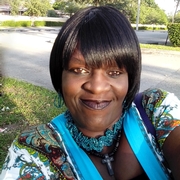 By Alesia Miller with Jacqueline Peters | April 22, 2016
Willow Leader, Empower U & Trainer, ETR
Jacqueline Peters: In Part 1 of this blog post, I described some of my experiences as a trainer for the WILLOW training of facilitators in Atlanta. I asked one of the participants, Alesia Miller, to share some of her thoughts about the experience and the program.
About Alesia
Alesia is the WILLOW Coordinator for Empower "U", Inc., a community health center in Miami, FL. They seek to provide quality and culturally competent health care services for individuals and families affected by chronic conditions, including HIV.
Alesia works in one of the toughest parts of Miami—the Opa-Locka and Liberty City neighborhood. She is so awesome! She'd facilitated a WILLOW session earlier on the day she sent us the comments below. I wasn't at all surprised to hear that the women in her group had participated fully. She's a gifted, charismatic leader.
Be sure to check Part 1, Part 3 and Part 4 of this series to find other inspiring personal stories about why women choose to be a part of the WILLOW effort.
Alesia Miller
My motivation to be a WILLOW leader has changed from the beginning up to now. As I continue along in this process, I've experienced the changes of how this disease is experienced by the newly diagnosed versus the long term survivors.
We WILLOW Sisters are giving other women like ourselves information to prevent further health damage or re-infection. It kinda gets to me when the misconceptions supersede the factual information a woman with HIV has. And for that reason, I am going to go forward being a WILLOW Facilitator.
Being a woman who is HIV-positive myself, I truly believe I can be an even stronger example for others. I give them the accurate information they need. I also live what I teach, as a strong, confident and proud woman.
I hope that the ladies—or I mean Divas—become just as strong and confident as I am.
Being part of the WILLOW intervention keeps reminding me of who I am. It keeps me sharp and willing to make the necessary changes in my own life. It is a lot of information to give and take in. To me, being a facilitator keeps the conversations fresh. It also challenges me to be my very best.
Alesia Miller is the WILLOW Coordinator for Empower "U", Inc., in Miami, Florida. Jacqueline Peters is a trainer at ETR. She can be reached at jacqueline.peters@etr.org or found on LinkedIn.