Growing the Organization: Choosing a Distributed Workforce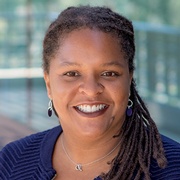 By Vignetta Charles, PhD | April 3, 2018
CEO, ETR
ETR is a national organization—one with global aspirations. You might not have guessed this if you'd peeked in on one of our all-staff meetings a few years back. These were held in a single conference room, with a minority of our team joining from two smaller rooms at "satellite offices," along with a few team members joining from home offices.

No longer!
Since that time, the organization has enthusiastically embraced the use of a distributed workforce. While we continue to have an office in Scotts Valley, California, we've expanded and updated our offices in both Oakland and Sacramento. We've established a robust "remote team," with individuals and small work groups in states spanning the Northeast, the South and the Midwest. Now, 50% of ETR's workforce works in a space outside that conference room you might have looked in on a few years ago.
This Is Working for Our Organization
ETR's Sue Potter recently wrote about the benefits of being part of the remote team. Although working out of a home office is not for everyone, I'm delighted that it's been a plus for her personally. I know it has for many of our other remote team members as well. For others (including myself), working in co-located spaces is aligned with our personalities and workstyles, or it is specifically required for the roles we play at ETR. The benefit of offering both/and, rather than either/or, for where and how you work is critical to our success at ETR.
As part of ETR's leadership, I can't say enough about the advantages of this approach from an organizational standpoint. I am loving it! Here are some of the exciting benefits.
We extend our reach. Do you want a diverse workforce? I do! Today, we have employees who represent a range of identities and experiences in all manner of domains—personal history, ethnicity, area of specialization, age, professional network, family status, regional affiliation and more. Having access to these diverse perspectives strengthens everything we do.
We can compete effectively for leading talent. Some people have family obligations that keep them in a particular location. Some have a deep affinity for the place they live. Some prefer an urban setting, and some would rather gaze at the mountains. Depending on the role, we can recruit any of these folks and make it work.
Everyone on staff has become both more disciplined and more expansive. Staff are expected to log into our collaboration network when at their desks. Their availability is clearly visible to anyone else working on the network. This means more people are reaching out to colleagues and making some powerful new connections.
We can be "on the scene" for events all over the country. I may not be able to make an urgent last-minute meeting in D.C. tomorrow, but we have team members in D.C. who can. Our organization can be more responsive to regional and national events.
We are building stronger partnerships across the nation. It's easy to expand our networks when we are distributed and diverse. As a whole, we know a lot more people than we did individually or in regional silos.
We are building a more equitable and global spirit. When you participate in an effective meeting with a distributed workforce, you get a different sense of connection. You're engaging with minds from many different places. The group begins to think, listen and learn in new ways. People come up with ideas that probably would not have emerged under our older system.
Staff is building stronger technology skills. Every staff member has the capacity to log in from their desktop using voice and video. Even the former holdouts now join virtual staff meetings and Skype calls with ease.
Creativity Is Key
Some have argued that distributed workforces don't work because people miss the connection of face-to-face interaction. I agree that someone in a home office, sharing only the occasional email with colleagues, is unlikely to enjoy some of the more spontaneous "water cooler" experiences as a co-located worker.
But we've got a Distributed Workforce Work Group that provides ready answers to such criticism. Members come from all of our locations as well as the remote team. It's one of the most creative groups I've ever worked with.
Every member has learned more about strategies that bring collaboration, teamwork and success to a distributed organization. We are testing out new ideas. And we are implementing all kinds of new practices.
Our all-staff meetings are now entirely virtual. Almost everyone finds them more engaging and connected than our old-style live meetings with some remote folks watching on the webcam. We have an annual, in-person, all-staff retreat. We have regular surveys, contests and storytelling activities that expand everyone's acquaintance with staff in all of our locations. We even had an online holiday party this year!
The Quilt: A Different Kind of Connection
Our all-staff retreat theme this year was "A Patchwork of Connections." For me, this brings attention to the totality in our organization's "quilt"—people and perspectives from many places. But it also helps us focus on the beauty of each individual square. No two are alike. Each is necessary for the whole to work. Each offers a unique contribution to the success of our work and our mission.
So yes, a distributed workforce is a different kind of experience. For us, it's been a very good one. I am grateful to be working with this extraordinary band of talented, visionary, motivated, creative and mission-driven people.
Is your organization working with this model? How is it going? What are your challenges? I'd love to hear more about your own experiences.
Vignetta Charles, PhD, is Chief Executive Officer of ETR. She can be reached at vignetta.charles@etr.org.