ETR's Kieren Jameson Named Salesforce MVP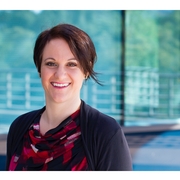 July 17, 2015 – ETR Digital Solutions Manager Kieren Jameson, MLIS, has been named a Salesforce MVP in the Summer '15 Class of Developer MVPs. This program recognizes exceptional individuals within the Salesforce community for their leadership, knowledge and ongoing contributions.
---
Jameson has been a front- and back-end developer, database administrator, trainer and project manager since 1995. She started working as a Salesforce administrator in 2012. As a Certified Force.com Developer she is passionate about Salesforce development and helping women and other developer minorities learn to code.
A self-described Tech Evangelist, Jameson found inspiration in the work of her colleagues in Watsonville TEC, who bring technology opportunities to underserved youth. She used that model to bring new technology opportunities to a network for women who code, and in 2014, she started a blog to chart her progress and help teach others to code (WomenCodeHeroes.com). Along with ETR Senior Research Associate Lou Ann Lyon and three others, she also co-founded RAD Women, a virtual learning environment to create community for women Force.com coders and help Salesforce administrators learn to code on Force.com.
Jameson brings a phenomenal level of dedication and integrity to her work in the developer community and especially to finding creative ways to support women coders. ETR is excited to have her professional commitment as we strive to find the best ways to advance science, reduce health risks and improve lives.