Sex Education Journal Honors Dr. Douglas Kirby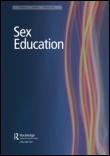 The international peer-reviewed journal Sex Education recently published a special issue in memory of the late Dr. Douglas Kirby of ETR and his legacy.
In announcing the call for papers, the journal stated: "Doug was a pioneer in the field of sex education, both in the United States and internationally, identifying the key features of good quality, effective education and raising important questions about the limitations of other approaches. He died unexpectedly on December 22, 2012, while mountain climbing in Quito, Ecuador. He is sadly missed by all who worked with him or knew his work, but leaves the field of sex education a richer place as the result of his enthusiasm, dedication and scholarship."
The special issue focuses on papers that address evidence, advocacy and policies for comprehensive sexuality education; principles of effective sexuality education programs; curriculum development and promoting healthy sexual relationships among young people.
Roger Ingham, Professor of Health and Community Psychology, University of Southampton, UK; Leslie Kantor, Vice President of Education, Planned Parenthood Federation of America, New York, USA; and Ekua Yankah, Independent Consultant, Bangkok, Thailand, served as guest editors of this special issue.
The journal has graciously provided open access to the article by Leslie M. Kantor, Lori Rolleri and Katherine Kolios on Doug Kirby's Contribution to the Field of Sex Education.
The full issue may be viewed here.