Vignetta Charles, PhD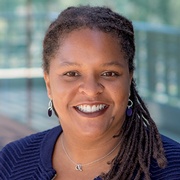 Chief Executive Officer
(831) 438-4060
---
Biography
Vignetta Charles, PhD, is Chief Executive Officer at ETR (Education, Training and Research), a non-profit committed to advancing health equity globally through science-based products and services. Prior to her appointment as CEO, Dr. Charles was Chief Science Officer at ETR-- focused on unifying and translating ETR's sciencebased approaches to training and research. Her research emphasis is on behavioral health related to the intersection of HIV/AIDS, sexual health and mental health. She came to ETR from AIDS United, where she served as Senior Vice President, guiding strategic programming for the organization, garnering public and private resources for programs, leading efforts to measure and document program outcomes, and developing an expanded portfolio on the translation of science to community. Prior to her work at AIDS United, Dr. Charles developed and rigorously evaluated innovative, theory- and evidence-based sexual and reproductive health and HIV prevention programs. She has focused her professional work on issues that disproportionately impact politically disenfranchised communities, with a focus on urban sexual and reproductive health and an emphasis on HIV prevention. Dr. Charles served on the Presidential Advisory Council on HIV/AIDS from 2014- 2017 advising the White House and Health and Human Services on HIV/AIDS domestically and globally. She currently serves on the Board of Directors of BEAM (Black Emotional and Mental Health Collective), the Board of Directors of The Well Project, and the Advisory Boards of the Transgender Strategy Center and Elizabeth Taylor AIDS Foundation, respectively. Other previous work experience includes serving as the national health educator for the Commonwealth of Dominica, West Indies, initiating a teen pregnancy prevention portfolio for the William and Flora Hewlett Foundation, and coordinating HIV and pregnancy prevention programs in both San Francisco and Oakland, California. She is an alumna of the University of California at Berkeley for undergraduate work, the Harvard T.H. Chan School of Public Health for a Master's degree in health and social behavior, and the Johns Hopkins Bloomberg School of Public Health for her PhD in the Department of Population, Family, and Reproductive Health.
---
Publications
Auerbach, J. D., S. Kinsky, G. Brown, V. Charles. 2015. Knowledge, attitudes, and likelihood of pre-exposure prophylaxis (PrEP) use among US women at risk of acquiring HIV. AIDS Patient Care STDS 29 (2):102-110.
Jeeyon, J. K., C. Maulsby, R. Zulliger, K. Jain, , V. Charles, M. Riordan, M. Davey-Rothwell, D. R. Holtgrave. 2015. Cost and threshold analysis of Positive Charge, a multi-site linkage to HIV care program in the United States. AIDS and Behavior, Epub 2015 Jul 3.
Coyle, K., P. Anderson, J. Glassman and V. E. Charles. 2014. Romantic relationships: An important context for HIV/STI and pregnancy prevention programs with young people. Sex Education 14 (5).
Kim, J. J., C. Maulsby, S. Kinsky, M. Riordan, V. Charles, Positive Charge Intervention Team, K. Jain and D. R. Holtgrave. 2014. The development and implementation of the national evaluation strategy of Access to Care, a multi-site linkage to care initiative in the United States. AIDS Education and Prevention 26 (5):429-444.
Maulsby, C., V. Charles, S. Kinsky, M. Riordan, K. Jain, D. Holtgrave. 2014. Positive Charge: Filling the gaps in the U.S. HIV continuum of care. AIDS and Behavior, Epub 2015 Feb 12.
Polis, C. B, V. E. Charles, R. W. Blum, W. H. Gates. 2012. Abortion and mental health: Guidelines for proper scientific conduct ignored. British Journal of Psychiatry 200 (1): 76-77.
Charles, V., D. Kirby, G. Lepore, K. Coyle and J. Walker. 2011. Promoting Sexual Health. Scotts Valley, CA: ETR Associates.
Charles, V. E., C. B. Polis, S. K. Sridhara, R. W. Blum. 2008. Abortion and long-term mental health outcomes: A systematic review of the evidence. Contraception 78 (6): 436-450.
Charles, V. E., R. W. Blum. 2008. Core competencies and the prevention of high-risk sexual behavior. New Directions for Child and Adolescent Development 2008 (122): 61-74.