Kate Uslan, MPH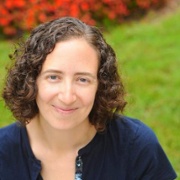 Project Coordinator II
(831) 438-4060 x284
---
Biography
Kate Uslan, MPH, brings 20 years of experience in various public health positions to her role as Project Coordinator II for ETR. She started her career in tobacco policy research at the University of Minnesota and then moved to North Carolina to lead tobacco prevention and control efforts in Charlotte. As Tobacco Control Coordinator of Mecklenburg County she spearheaded efforts to reduce exposure to secondhand smoke while working with partners across the state to pass smoke-free restaurant legislation - a landmark achievement in the tobacco-rich state.
From there she went on to work in strategic initiatives and marketing and communications for the Alliance for a Healthier Generation, a children's health organization started by the William J. Clinton Foundation. She has also spent a number years doing freelance communications work for various non-profit agencies in food policy, school health, active living, substance use, and more. Kate earned her BA in Political Science from Indiana University and her MPH from the University of Minnesota.
---
Current Projects
---
Publications
Uslan, K. (2007). Smoking Policies in Small Worksites in Minnesota. American Journal of Health Promotion, 21(5), 416-421.