Stephanie Guinosso, PhD, MPH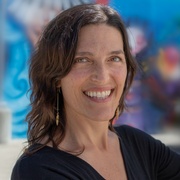 Senior Research Associate I
(510) 858-0994
---
Biography
Stephanie Guinosso, PhD, MPH, is a Senior Research Associate at ETR. Her research focuses on relationship-centered methods that address adverse childhood experiences, toxic stress and trauma and innovations that promote resiliency and healing among youth, families, and communities. She specializes in school-based trauma-informed approaches. Her current projects include providing training and technical assistance on the About Us Healthy Relationships Program for Vulnerable Youth, disseminating findings from ETR's annual Kirby Summit, and integrating trauma-informed approaches into ETR's curricula, trainings, and research. Dr. Guinosso is also a key member of ETR's K12T9 Initiative, where she leads workshops on how K-12 schools can use a trauma-informed lens to bolster their responses to sexual and gender-based harassment.
In her previous positions, Dr. Guinosso served as a Project Director with the California School-based Health Alliance, where she worked with 24 schools and school-based health centers in the bay area to implement and evaluate trauma-informed approaches. She has also worked with the Johns Hopkins Child and Adolescent Health Measurement Initiative (CAHMI) to create a research and policy agenda to address adverse childhood experiences at the state and national levels. Dr. Guinosso has also led national training and technical assistance efforts with the Johns Hopkins University and ETR on federally funded adolescent HIV, STI, and teen pregnancy prevention initiatives, including the NIH-funded Connect to Protect, the Family and Youth Services Bureau's Personal Responsibility and Education Project (PREP), and CDC's Division of Adolescent and School Health.
She received a Master of Public Health and Doctor of Philosophy in child and adolescent health from the Johns Hopkins Bloomberg School of Public Health.
---
Current Projects
---
Publications
Peterson, A.J., Silver, G.K., Guinosso, S.A., Bell, H.A., & Coyle, K.K. (2020) A protocol for a systematic review or research pertaining to young people's views on how pornography exposure or use influences their sexual development, attitudes or behaviors. Scotts Valley, CA: ETR Associates. https://www.etr.org/default/assets/File/kirby-summit/KS_Porn_2020_Protocol_Qualitative_3-3-20.pdf
Bethell, CD, Solloway, MR, Guinosso, SA, Hassnik, S, Srivastav, A, Ford, D, and Simpson, LA. (2017). Prioritizing Possibilities for Child and Family Health: An Aganda to Address Adverse Childhood Experiences and Foster the Social and Emotional Roots of Well-being in Pediatrics. Academic Pediatrics; 19(7):S36-S50.
Peterson, AJ, Coyle, KK, Guinosso, SA, Christopher, DE, and Charles, VE. (2016).Sex and the Teen Brain: Disrupting What We Think We Know. Scotts Valley, CA: ETR Associates.
Anderson, P, Guinosso, SA, Wilson, S, Denner, J, Coyle K. (2016). Exposure to violence and sexual risk among early adolescents in school. Journal of Early Adolescence; April 18, 2016 0272431616642324
Guinosso, S, Johnson, S, Graefe, A, Schultheis, M, Bishai, D. (2016). Neurocogntive correlates of young drivers' performance in a driving simulator. Journal of Adolescent Health; 58(4):467-73.
Guinosso, SA, Johnson SB, Riley AW. (2016.) Multiple Adverse Experiences and Child Cognitive Development. Pediatric Research; 79(1-2):220-6.
Lezin, N, Witt, S, Taylor J, & Bliesner, M. (2010). Providing Access to HIV Testing Through Schools: A Resource Guide for Schools. Scotts Valley, CA: ETR Associates.
Kerrigan DL, Witt SA, Glass B, Chung SE, Ellen J. (2006). Perceived neighborhood social cohesion and condom use among adolescents vulnerable to HIV/STI. AIDS and Behavior; 10 (6): 723-9.
Sieverding JA, Adler N, Witt S, Ellen JM. (2005). The influence of parental monitoring on adolescent sexual initiation. Archives of Pediatrics and Adolescent Medicine; 159 (8):724-729.