Nasbah Ben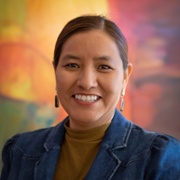 Director of Tribal Projects
(831) 440-2270
---
Biography
Nasbah Ben oversees the Tribal Community Coordinating Center and California's Clean Air Project. She is an advocate for Tribal communities and continues to ensure Tribal projects implement their Tobacco-related programs in a culturally relevant and appropriate manner.
Ms. Ben is from northeastern Arizona and a member of the Navajo Nation. She has traveled worldwide to advocate and organize Indigenous programs, that are focused on the rights of Indigenous people. Her work has focused on ensuring representation from Tribal communities in material and content development, curriculum development, strategic planning and organizing, as well as program building.
Ms. Ben has a BS in Environmental Sciences, with an emphasis in Environmental Planning from Northern Arizona University and has completed course work and research towards a MA in Global Indigenous Nations Studies Environmental Track at the University of Kansas.