Mariah Santiago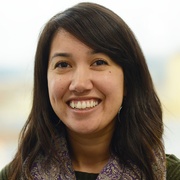 Research Associate I
(510) 858-0993
---
Biography
Mariah K. Santiago, MPH, currently serves as a Research Associate in ETR's Oakland office. She supports various school-based health and wellness projects for the San Francisco Unified School District. Ms. Santiago is the lead on several projects, such as Project Prevent, a federally funded program to provide targeted services to address the needs of students exposed to trauma and violence. She supports research, data analysis and evaluation on the School-Based Health & Wellness Team.
In 2017, she won the Poster Award of Social Justice/Multiculturalism at the 2017 Annual Asian American Psychological Association Convention. She also managed the American Public Health Association's LGBT Caucus' 2016-2017 Mentorship Program and currently sits on the APHA LGBT Caucus Executive Board. She has 7+ years of experience in public health research as a Research Assistant at the Center for Research Education Gender and Sexuality and Health Equity Institute. She has also worked in various nonprofit organizations such as Huckleberry Youth Programs and Lavender Youth Recreation Information Center (LYRIC). Mariah earned her BA in Sociology/Sexuality Studies and her Master of Public Health focused on Community Health Education from San Francisco State University.
---
Current Projects
Project Prevent (School Based Violence Prevention)
California Healthy Kids Survey
Youth Risk Behavior Survey
Nutrition Education Program
Wellness Policy
CDC HIV and YMSM
---
Publications
Santiago, M. (2017, May). Access Denied: Addressing health inequity for LGBTQ+ students at San Francisco State University. SFSU Department of Health Education Culminating Experience Presentation, San Francisco, CA.
Rebanal, D., Santiago M., Becker, L. (2017, October). Racial Residential Segregation, Social Capital, and Political Participation on the Psychological Distress of Asian Americans. Asian American Psychological Association, Las Vegas, NV.