Kelley Quinn, M. Ed.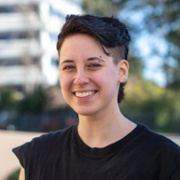 Project Coordinator
(831) 440-2287
---
Biography
Kelley Quinn is a Project Coordinator for the Professional Learning Support training services. She is the first point of contact for clients related to training and ETR's sexual and reproductive health (SRH) education programs. She manages all logistical tasks leading up to and during the delivery of the training events. She also contributes to the development of training and SRH support material.
Kelley's educational interests are in consent education, bystander intervention and prevention work, and discussions on intersections of privilege--particularly in queer spaces. She is committed to the continuous journey of learning and unlearning and believes that she is as much an educator as a learner in her field.
She strives to empower students and colleagues in resisting oppression and revolutionizing their environment and their body. She believes every classroom has the potential to be a place of social change and aspires to make every educational opportunity one of revolution.
Kelley earned her Master of Education in Human Sexuality from Widener University and her Bachelor of Arts in English and Gender & Sexuality from Georgia College & State University.
---
Publications
Quinn, K. (2019). Revealing the face of Islamophobia: A critical evaluation of Western feminism. The Corinthian, 19(12).