Kalena Fields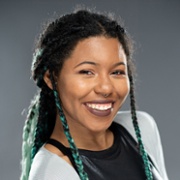 Graphic Designer
(831) 440-2104
---
Biography
Kalena Fields is a multi-faceted graphic designer with a passion for the arts. In her career as a designer Kalena has had the opportunity to work on marketing campaigns, branding projects, publication design, environmental design, digital design, and much more.
Prior to working at ETR Kalena graduated from California State University, Sacramento with a Bachelor of Science in Graphic Design and a minor in Dance. Kalena worked in the Destination Marketing industry as the Graphic Designer and Brand Manager for several years prior to her position at ETR.
At ETR, Kalena is currently part of the Tobacco Education Clearinghouse of California (TECC) project as well as the Rural Initiatives Strengthening Equity (RISE) project. Kalena uses her graphic design and social media skills to create tobacco education materials, social media campaigns, digital graphics, and more for these projects.