Julie Tinker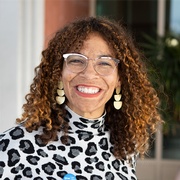 Creative Director
(510) 922-0070
---
Biography
Julie Tinker is Creative Director at ETR where she oversees the organization's design team, design strategy, systems thinking and application of human centered design across ETR's portfolio.
Julie has spent her career working for social impact as a design thinker, strategist and creator of health solutions, producing solutions from health care products to educational app development to national and international print and video campaigns.
Prior to ETR, Julie was Design Lead at Hopelab, where she helped build a culture of design and evidence-based, digital products for teens and young adults in mental health and wellness. At Hopelab, Julie brought science and design together to create solutions for measurable change. ETR's culture and approach makes it the perfect place to combine her interests in community health, health equity, behavioral science and design.
Julie holds a BA in Communication and MA in Sociology from Stanford University and an MFA in Design from The School of Visual Arts in New York.
A former professional athlete, Julie has made health and wellness the center of her family's life through exercise, time outdoors, music, and dancing like nobody's watching.