John Shields, PhD, MSW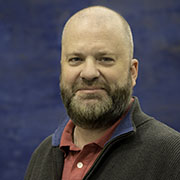 Senior Research Scientist I
(510) 858-0990
---
Biography
Dr. John P. Shields, PhD, MSW leads ETR's School-Based Health & Wellness (SBHW) portfolio, which includes a wide range of research, evaluation, and information technology projects across a diverse set of content areas in close partnership with K-12 School Districts.
A senior staff member since 2002, Dr. Shields creates and sustains meaningful relationships with K-12 District clients to support the design, implementation, and evaluation of their health and wellness systems.
Dr. Shields also leads ETR's K12T9 Initiative, helping K-12 clients improve and enhance their efforts to eliminate, prevent, and address sexual and gender-based harassment under Title IX. The K12T9 Initiative team helps Districts build capacity across a comprehensive nine-component model that promotes effectiveness and compliance with an innovative software solution at its core – the Title IX Complaint Management System (T9CMS).
T9CMS is a secure, online Title IX Complaint Management System for K-12 Districts that gives Compliance Officers, Investigators, and School Administrators the tools they need to effectively respond to complaints of sexual and gender-based harassment. Developed by ETR's experienced K12T9 professionals in collaboration with K-12 Title IX Coordinators, Investigators, and School Administrators, T9CMS is the only Title IX Complaint Management System developed exclusively for K-12 Districts.
Dr. Shields is also focused on bringing cutting edge software solutions to other school-based health and wellness programs, including school-based health clinics. ETR's Wellness Initiative Services Hub (WISH) brings a practitioner-focused approach to service documentation that supports clinical practice, enables real-time information sharing across key school personnel, and generates large, rich datasets for evaluation.
Working at the intersection of education, science, and technology, ETR's Dr. John Shields and the SBHW team partners effectively with K-12 clients to support the health and wellness of all K-12 students.