Jennifer Geisler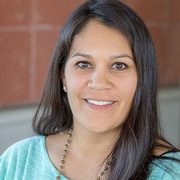 Project Coordinator II
---
Biography
Jennifer brings to ETR her unique experiences from working in Indian Country, where she spent 10 years with the Preventing Underage Drinking Project at the Indian Health Council.
Her interest in this field is due to the health related issues that affect her community. As a Native American who grew up in north San Diego County, she is familiar with the health problems facing her people. While working as a registered nurse, she found that she enjoyed working with other people in the healthcare field, and was encouraged to become more knowledgeable about how to help her community.
In her off hours, Jennifer competes in marathons and half Ironman events, and enjoys traveling and spending time with her husband and daughter. On the weekends, she can be found jogging or hiking with her family, or doing other types training and physical activity. Her family is very adventurous and loves to discover new activities.