Jacqueline Peters, MA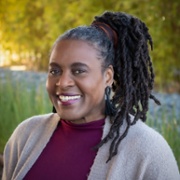 Project Coordinator
(831) 440-2190
---
Biography
As the logistics specialist for ETR's Community Impact Solutions Project, Jacque Peters is both diligent in her work and committed to provide support for the capacity-building assistance team. She joined ETR in October 2013 as a benefits specialist, after ten years with an employee benefits brokerage firm in Campbell, California. Ms. Peters brings her vast experience and knowledge to her work in HIV prevention. In 2016, she became certified as a Women Involved in Life Learning from Other Women (WILLOW) EBI trainer after successfully conducting her first CDC training of facilitators session in Atlanta in February.
In addition to her work with ETR, Ms. Peters has worked with business owners to develop and implement social media plans to grow their businesses locally. She also worked as a volunteer with the Adult Learning Program in San Benito County, working with English as a second language learners to assist than in enhancing their understanding of English.
Ms. Peters was born and raised in Jamaica. She obtained her Master's degree in economics, with a major in international business and foreign trade, from the University of Economics in Poznan, Poland. (Yes, she speaks Polish!) She also worked in the Jamaican Ministry of Transport as an economist, working on a number of World Bank projects, including restructuring the transportation fare system for the Kingston Metropolitan Area.
Ms. Peters is an avid sports fan and can be regularly attends games, supporting her favorite local teams (Golden State Warriors, Oakland Athletics and Oakland Raiders). She also raises chickens, continuing a family tradition started by her grandmother.