Ifeoma Udoh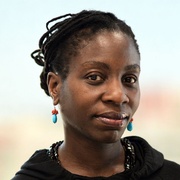 Senior Research Associate II
---
Biography
Dr. Ifeoma Udoh is a senior evaluation advisor with extensive experience in implementing international and domestic HIV/AIDS programming and monitoring and evaluation activities in low resource settings around the world, including the Caribbean, Asia, and the United States.
Ife's interests lay in the use of community based participatory approaches in behavioral and clinical interventions to address the structural impediments to accessing HIV prevention, care and treatment. In particular, these include the design and use of rapid assessments and ethnographic methods to iteratively inform program development and improvement, with particular emphasis on communities of color and those that are most at risk, such as men who have sex with men, young women, and people living with HIV/AIDS.
Her experience and passion is in engaging community based organizations serving marginalized groups to design and implement monitoring and evaluation activities that reinforce evidence driven decision making. She believes in developing long term capacity within communities to continuously implement M&E activities which are rigorous and grounded in the realities of the communities being served.
After completing a doctorate in Medical Anthropology, Ife subsequently went on to work on international monitoring and evaluation and training programs through the President Emergency Plan for AIDS Relief (PEPFAR), with initiatives of the Global AIDS Program at CDC, and MEASURE Evaluation (USAID), serving as an in country M&E advisor to National AIDS Programs and community based organizations in both the Eastern Caribbean and South East Asia.
---
Selected Publications and Presentations
Lambdin BH, Cheng B, Peter T, Mbwambo J, Apollo T, Dunbar M, Udoh IC, Cattamanchi A, Geng EH, Volberding P. Implementing Implementation Science: An Approach for HIV Prevention, Care and Treatment Programs. Current HIV Research. 2015; 13(3):244-9.
Udoh, I, Minkler, M, Smith, C D, Chopel, A, Walton, S, Grijalva, C, Yusef, A; Dunbar, M; Developing and Using a Partnership Covenant to Guide a study of Late HIV Diagnosis. Progress in Community Health Partnerships: Research, Education, Action. 7.4 (2014): 403-411
Udoh, I, Grijalva, C, et al Integrating HIV Testing with immigrant health and welfare programs: Best Practices in Reaching an Underground Population. Oral presentation, International HIV/AIDS Society Conference, Melbourne Australia 2014
Udoh, I, Grijalva, C, et al When risk is not in the vocabulary: How do we explain what it means to be "late" diagnosed in urban communities of color. Oral presentation, International AIDS Conference, Washington DC 2012
Udoh, I., Lum Lock, A. et al Small Island, Big Issues: Assessing HIV Prevention Needs for Most at Risk Populations. Oral presentation, International HIV/AIDS Conference Mexico City, Mexico, 2008
Barriers to Accessing Services for Most at Risk Populations in St Kitts and Nevis: A situational assessment. Findings and report completed September 2007, MEASURE Evaluation/Macro International.
PLACE in St Lucia (Priorities for Local AIDS Control Efforts): Findings and report completed September 2007, MEASURE Evaluation/University of North Carolina, Population Health Center.
Oliva, G., Rienks, J., Udoh, I., Smith, C.D A University and Community Based Organization Collaboration to Build Capacity to Develop, Implement, and Evaluate an Innovative HIV Prevention Intervention for and Urban African American Population. AIDS Education and Prevention, 17 (4), 300-316, 2005.