Ifeoma Udoh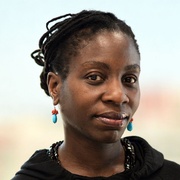 Senior Research Scientist
---
Biography
Dr. Ifeoma Udoh is a senior evaluation team leader at ETR with extensive experience in implementing international and domestic HIV/AIDS programming and monitoring and evaluation activities in low resource settings around the world, including the Caribbean, Asia, and the United States. In her role at ETR, she leads our HIV Content Area, driving our overall agency strategy to address the development of ETRs HIV products and scientific services. Ife's interests lay in the use of community based participatory evaluation approaches to design interventions which address the structural impediments to accessing HIV prevention, care, and treatment. Dr Udoh is a medical anthropologist, who has used her deep qualitative expertise in designing HIV/AIDS prevention and care programs and to address systemic inequities in health care access for men who have sex with men, sex workers, Black women and their families, and people living with HIV/AIDS in both international and US based domestic settings. She currently leads 2 multi-state large scale evaluation initiatives: the COMPASS Initiative™, a multi partner collaboration whose goal is to address the HIV/AIDS disparities in the 16 states of the US southern region; and the HepConnect Initiative, which expands hepatitis C and harm reduction services in 5 states of the Appalachian region. She was a Co-Investigator/Project Director for the CRUSH Project (Connecting Resources for Urban Sexual Health), a multi-year demonstration study to evaluate the expansion of PrEP (pre-exposure prophylaxis for the prevention of HIV infection) for Y/MSM, which showed efficacy data for young Black and Latinx young men who have sex with men and their adherence to PrEP as an HIV prevention tool. Ifeoma is based in Oakland, California.
---
Selected Reports and Publications
Janet J M, Mi-Suk KD, Kimberly A K, Ifeoma U, Remi F, Rebecca P, Kristin K, Xavier E, Horowitz J, Robert G, Jeffrey H B. Adherence to PrEP among young men who have sex with men participating in a sexual health services demonstration project in Alameda County, California. J Acquir Immune Defic Syndr. 2019 Apr 15. PMID: 30973542.
Koester KA, Erguera XA, Kang Dufour M-S, Udoh I, Burack JH, Grant RM and Myers JJ (2018) "Losing the Phobia:" Understanding How HIV Pre-exposure Prophylaxis Facilitates Bridging the Serodivide Among Men Who Have Sex with Men., Front. Public Health 6:250., doi: 10.3389/fpubh.2018.00250
Barrot H. Lambdin, Ben Cheng, Trevor Peter, Jessie Mbwambo4, Tsitsi Apollo, Megan Dunbar, Ifeoma C. Udoh, Adithya Cattamanchi, Elvin H. Geng, and Paul Volberding Implementation Science: An Approach for HIV Prevention, Care and Treatment Programs Current HIV Research, Accepted for publication, April 2015.
Udoh, I, Minkler, M, Smith, C D, Chopel, A, Walton, S, Grijalva, C, Yusef, A; Dunbar, M; Developing and Using a Partnership Covenant to Guide a study of Late HIV Diagnosis. Progress in Community Health Partnerships: Research, Education, Action. 7.4 (2014): 403-411
Udoh, I, Grijalva, C, et al Integrating HIV Testing with immigrant health and welfare programs: Best Practices in Reaching an Underground Population. Oral presentation, International HIV/AIDS Society Conference, Melbourne Australia 2014
Udoh, I, Grijalva, C, et al When risk is not in the vocabulary: How do we explain what it means to be "late" diagnosed in urban communities of color. Oral presentation, International AIDS Conference, Washington DC 2012
Udoh, I., Lum Lock, A. et al Small Island, Big Issues: Assessing HIV Prevention Needs for Most at Risk Populations. Oral presentation, International HIV/AIDS Conference Mexico City, Mexico, 2008
Barriers to Accessing Services for Most at Risk Populations in St Kitts and Nevis: A situational assessment. Findings and report completed September 2007, MEASURE Evaluation/Macro International.
PLACE in St Lucia (Priorities for Local AIDS Control Efforts): Findings and report completed September 2007, MEASURE Evaluation/University of North Carolina, Population Health Center.
Oliva, G., Rienks, J., Udoh, I., Smith, C.D A University and Community Based Organization Collaboration to Build Capacity to Develop, Implement, and Evaluate an Innovative HIV Prevention Intervention for and Urban African American Population. AIDS Education and Prevention, 17 (4), 300-316, 2005.