Ericka Skirpan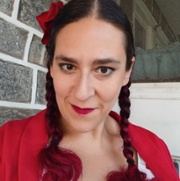 Executive Assistant in Administration
(831) 440-2108
---
Biography
Ericka Skirpan is a highly experienced executive assistant who is bringing her years of editorial support work from Scientific American to helping ETR thrive and grow. She's an expert at juggling dozens of tasks and making certain the people she supports have nothing to think about but the world changing projects on their plates. She handles travel support, meetings, internet research, document creation, and everything in between. She has a true passion for being the right hand to high level executives doing world changing work.
In her free time, she runs immersive theater and roleplaying events (LARP) that focus on lifting disenfranchised voices to tell their stories to a wider audience. She loves helping people showcase their stories to the world at large. She hopes to use these skills at ETR as well, be it in team building or community outreach. She graduated from the University of Toronto with an Honors Bachelor of Arts Specialist in both Theater and English. However, a theater degree doesn't often go far in the world, so between college and ETR, she's held a wide range of jobs including Casino Dealer, Dramatic English Teacher (In Hong Kong), Fine Dining Server, Recruiter, Staffing Agent, and Wedding Planner, and Senior Editorial Coordinator! She is nothing if not a woman who adapts.
Lastly, she's the mother of two lovely cats and a wild garden in her little back yard in Philadelphia. She is an awful cook, but has managed not to start a fire in her new kitchen – yet!