Deeqa Mohamed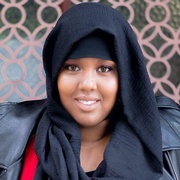 Research Associate
(510) 858-6017
---
Deeqa Mohamed is a public and global health professional with a strong passion for sexual and reproductive health research, especially as it relates to women's empowerment. She received her M.S. in Global Health Sciences from UCSF. Her Master's thesis research focused on access to and quality of abortion care for young Kenyan women (aged 18-24 years old) in Nairobi.
Prior to joining ETR, she spent almost two years working for the San Francisco Department of Public Health in the Substance Use Research Unit learning all the ins and outs of what it takes to manage large scale opioid use and overdose prevention studies. Currently, she is responsible for managing several evaluation projects in the school health and wellness portfolio at ETR.
Outside of her research work, Deeqa teaches workshops to global health graduate students at UCSF and now joins UC Berkeley's School of Public Health as a lecturer. She is responsible for co-designing a curriculum that incorporates research ethics with cultural humility, social determinants, social justice, and geopolitics.
Publications
Mohamed, D. Diamond-Smith, N. Njunguru J. Stigma and Agency: Exploring young Kenyan women's experiences with abortion stigma and individual agency. Reprod Health Matters 2018; 26. Available at: tandfonline.com/doi/full/10.1080/09688080.2018.1492285