Claudia Medina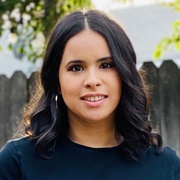 Educational Materials Coordinator
---
Biography
Claudia Medina is the Educational Materials Coordinator for Tobacco Education Clearinghouse of California (TECC). She received her Bachelor of Arts in Sociology with a minor in Spanish at California State University, Chico.
Prior to working at ETR, she worked as a program coordinator for several programs over the years which include nutrition, children's health & development and tobacco education. She began her work in nutrition working for a program out of Chico State, where she provided nutrition classes to underserved populations. Claudia then worked at Sutter County Children & Families Commission, where she coordinated health and development screenings for children under 5 years old. During her time there, she became a Certified Car seat Technician and continues to help families make sure their child's car seat is installed properly when there are car seat checkup events around town.
Most recently, Claudia worked at the Hispanic Latino Coordinating Center a program of the California Health Collaborative, where she provided assistance to the Hispanic Latino regional projects such as helping translate educational materials or connecting them to appropriate resources. This was her introduction to the tobacco control world.