Carly Raasch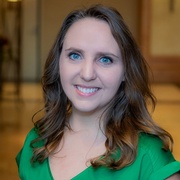 Senior Methodologist I
(831) 438-4060 x510
---
Biography
Carly Raasch is a Senior Methodologist I at ETR. For more than eleven years, she has helped organizations assess progress made in goals, identify programmatic improvements, and effectively communicate their activities and impacts to community members and other stakeholders. Carly enjoys working collaboratively with community-serving organizations, healthcare organizations, academic institutions, corporations, and local, state, and federal government initiatives.
She has extensive experience in program evaluation, research, communication, and project management. Prior to joining ETR, Carly was a Senior Evaluator leading more than a dozen evaluation projects for programs implementing national and international community education and training programs. She helped clients build their understanding and skills in evaluation so that they could continue to assess their organizational efforts. She also was a Project Manager at a communications and strategy consulting firm where she developed and executed strategic communications plans to positively change target audiences' understanding of community development and healthcare resources.
Carly's unique blend of experiences positions her well to help projects assess both community education and communication (traditional and digital media, social media, etc.) efforts.
Carly received her Masters in Communication, Applied Research from Johns Hopkins University and her Bachelor of Arts in Communications, Organizational Communication from Sacramento State University.
---
Current Projects
Statewide Coordinating Center for Rural Communities (RISE)
My Future Self
Youth Engagement Network
Tobacco Education Clearinghouse of California
---
Publications
Raasch, C. (2018, November). What are you saying? Effectively communicating the "truth" and navigating the power dynamics when reporting evaluation findings and recommendations. Expert presentation at the meeting of the American Evaluation Association, Cleveland OH.
Johnson, T., Jha, K., Raasch, C., & Nunez, L. (2017, November). SNA Savvy for the Sciences. Poster presentation at the meeting of the American Evaluation Association, Washington, DC.
Stitt, C. & Raasch, C. (2012, February). Assessing the Influence of Online Discussion Forums on Beliefs about Factual Information on Expert Health Websites. Paper presented at the meeting of the Western States Communication Association, Albuquerque, NM. Won Top 3 Paper Award in Health Communication.