Angela Cesaro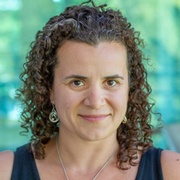 Director of Product Development
(831) 440-2280
---
Biography
Angela Cesaro is the Director of Product Development for ETR. She is responsible for defining strategy and features for ETR's product suite in ways that respond effectively to customer needs. In this role, she helps deliver value of many across different ETR's product lines and custom projects.
Angela has over 15 years of experience working in publishing, including eleven years working at Scientific American, most recently as Senior Manager, Ecommerce and Product Development. During her tenure at SA she worked with the development team to re-platform ScientificAmerican.com onto new content management and ecommerce systems, lead strategy for a responsive redesign and managed development of their iOS and Android apps.
Her position at ETR brings together a number of Angela's interests and passions, including putting science to work in meaningful ways to create a stronger, more equitable society. She believes that digital channels offer an exceptional opportunity to expand the impact of science-based health education and research.
A native of New Jersey, Angela enjoys the culinary arts. She majored in Web Development & Marketing. She appreciates all things tech, is a self-described sci-fi geek and loves being out in the woods or riding her Harley.