Amy Peterson, MSc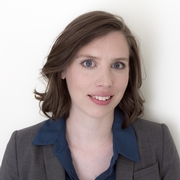 Strategic Development Manager
---
Biography
Amy Peterson, MSc, is a project coordinator for ETR's research, professional development and business development teams. Her expertise is in the implementation of sexual health programs for adolescent populations and building the capacity of adults who work with youth. In addition to serving as a trainer and grant writer, Ms. Peterson coordinates several internal strategic initiatives on sexual and reproductive health and intervention development. In her position as co-leader of ETR's Sexual and Reproductive Health (SRH) Charter, she collaborates with staff across research, training and product teams to conceptualize and implement a long-term, strategic vision for ETR's roles in the SRH field.
Over the last ten years, Ms. Peterson has worked closely with staff and administrations at the school, district, state and local government levels as well as with researchers, health professionals, social workers and others to strengthen policies and practices to improve adolescent health. Before coming to ETR, Ms. Peterson managed a middle school education program in Los Angeles County, where she worked directly with culturally and economically diverse students and their parents, teachers and administrators. Ms. Peterson received her Master of Science in public health and health promotion from the London School of Hygiene and Tropical Medicine (LSHTM). She is currently working towards a PhD in public health at LSHTM, where she studies the impact of the school environment on adolescent sexual behavior and pregnancy.
---
Current Projects
Sexual and Reproductive Health Charter
---
Publications
Peterson, A.J., Coyle, K.K., Guinosso, S.A., Christopher, D.E, and Charles, V.E. (2016). Sex and the Teen Brain: Disrupting What We Think We Know. Scotts Valley, CA: ETR Associates.
Coyle, K.K., Peterson, A.J., Franks, H.M, Anderson, P.M., and Glassman, J.R. (2016). Dual Contraceptive Method Use Among Youth in Alternative Schools. Journal of Primary Prevention, 37(6): 561-567.