Amy Peterson, PhD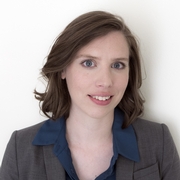 Senior Research Associate
(831) 440-2131
---
Biography
Amy Peterson (she/her/hers), PhD, is a Senior Research Associate at ETR. She leads a strategic initiative on health equity centering on ETR's Health Equity Framework (HEF), a model that describes the ways health outcomes are influenced by complex interactions between individuals and their environments. In addition to supporting the application of the HEF to ETR's strategy and content areas, Amy provides technical support for others interested in using the HEF in their organizations or programs.
Amy manages the Kirby Summit convening and has expertise in the implementation of school-based sexual health programs and in conducting quantitative and qualitative systematic reviews. Over the last 15 years, she has worked closely with staff and administrators at the school, district, state and local government levels as well as researchers, health professionals, social workers and others to strengthen policies and practices to improve adolescent health. Her research interests include how school environments influence young people's sexual health through systems of power, relationships, and individual disposition towards education and school. Amy has a PhD and MSc in public health from the London School of Hygiene and Tropical Medicine.
---
Current Projects
Kirby Summit
Health Equity Framework
---
Publications
Peterson, A.J., Charles, V.E., Yeung, D., Coyle K.K. (2020). The Health Equity Framework: a science- and justice-based model for public health researchers and practitioners. In review.
Peterson, A.J., Allen, E., Viner, R., & Bonell, C. (2020). Effects of the school environment on sexual risk behavior: a longitudinal analysis of students in English secondary schools. In review.
Peterson, A.J., Donze, M., Allen, E., & Bonell, C. (2019). Effects of interventions addressing school environments or educational assets on adolescent sexual health: systematic review and meta-analysis. Perspectives in Sexual and Reproductive Health. doi: 10.1363/psrh.12102
Peterson, A.J. & Bonell, C. (2018). School experiences and young women's sexual behaviour and pregnancy decisions: a systematic review and synthesis of qualitative studies. Health and Place. 53:52-61. doi: 10.1016/j.healthplace.2018.07.003
Peterson, A.J., Coyle, K.K., Guinosso, S.A., Christopher, D.E, and Charles, V.E. (2016). Sex and the Teen Brain: Disrupting What We Think We Know. Scotts Valley, CA: ETR Associates.
Coyle, K.K., Peterson, A.J., Franks, H.M, Anderson, P.M., and Glassman, J.R. (2016). Dual Contraceptive Method Use Among Youth in Alternative Schools. Journal of Primary Prevention, 37(6): 561-567.