Computer Science for the Social Good: Using Near-Peers to Engage Latino/a Students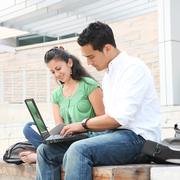 Funder
National Science Foundation
PI(s)
Jill Denner
Description
Latinos are the fasting growing ethnic minority population in the US, but are underrepresented in computing fields. In this project, we are designing and testing an afterschool program that aims to increase the interest and capacity of Latino youth to pursue and persist in computing fields, and build their capacity to transform their schools.
Key strategies include: (a) a multigenerational approach where near-peers from the community are co-teachers and role models, (b) a series of activities to introduce both CS and social justice concepts (and how they are connected), and (c) a structured opportunity to apply those concepts through the design and programming of a digital media project that focuses on an issue of inequity at their school. The curriculum is being tested with 360 students in eighteen 5th-grade classes, and involves 30 high school "near-peer" teaching assistants.
The products include research findings on the extent to which a near-peer teaching and social justice approach can engage Latinos in computing concepts and increase their interest to pursue additional computing classes. The project will also result in a scalable curriculum and training materials to help others create an effective near-peer program, integrate social justice into 5th-grade classes, and leverage Latino students' interests in computing.