What's New
New Look for HealthSmart!
We've updated the site design for the 2021/22 school year.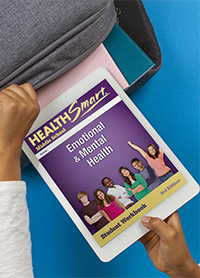 Third Edition of HealthSmart Middle and High School
The latest revision of HealthSmart for the middle and high school levels continues to focus on the essential concepts and skills students need to know and practice to adopt healthy behaviors, and the lessons and activities are tailored to the developmental capabilities of students at each grade level.
All lessons have been reviewed for medical accuracy and up-to-date content.
New lessons have been added on social media and emotional health, opioids, affirmative consent and sexual abuse prevention.
Tobacco lessons have been revised to include and emphasize risks of vaping.
Engaging PowerPoint slides are provided for every lesson to convey key concepts, enhance discussions and guide group activities.
Student journal pages have been incorporated into Student Workbooks for personal reflection, guided lecture notes and group activities. Journal pages list important health terms for each lesson, and the Student Workbook now includes a full Health Terms Glossary.
Language has been reviewed to reflect and promote inclusivity and support a trauma-informed approach.
Educators who purchase HealthSmart continue to have access to the HealthSmart Teacher Support Website that features a wealth of free digital resources, including the Lesson Planning Tool that gives teachers the power to quickly customize a HealthSmart lesson plan.
[See the correlation to the previous edition for Middle School and High School.]
Skills-Based Sexual Health Lesson Plans
We've pulled together new Skills-Based Sexual Health Lesson Plans for the third edition of middle school and high school.
All lessons are aligned to the Knowledge and Skill Expectations for Sexual Health in the CDC's Health Education Curriculum Analysis Tool (HECAT), as well as the National Sexuality Education Standards and the California Healthy Youth Act. A great resource for California schools, CDC DASH grantees, or anyone who wants to focus on exemplary, skills-based sexual health education.
View the list of lessons for Middle School or High School.
HealthSmart Print Edition users can download and follow this list to see which lessons to teach from the various units.
HealthSmart Digital Edition users can go directly to the online lessons from within the plan.
Alignment with OAH Curriculum Assessment Tools
Funding opportunities from the Department of Health and Human Services, Office of Adolescent Health, may require selected curricula to align with the elements detailed in either the Systematic Method for Assessing Risk Avoidance Tool (SMARTool) from the Center for Relationship Education for a risk-avoidance approach, or the Tool to Assess the Characteristics of Effective Sex and STD/HIV Education Programs from ETR and Healthy Teen Network for a risk-reduction approach.
We have aligned the HealthSmart Sexual Health units for middle school and high school with these tools. Alignment documents are available at the links below:
National Sexuality Education Standards Alignment
HealthSmart sexual health lessons in Grades K through 12 have been aligned to the National Sexuality Education Standards.