Downloadable Resource Books
The following free resources are made available exclusively to our HealthSmart customers. Enhance your professional development with these full-length books that provide background information and teaching support for those working in the field of Health Education.
---
Teach & Talk Series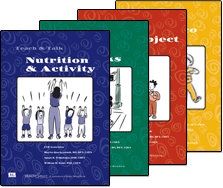 Designed for elementary teachers, these 4 books offer additional information and teaching tools for specific HealthSmart content areas.
Tobacco Free
This teaching guide includes the following topics: why teach about tobacco, helping children learn about tobacco, talking with children about tobacco, shaping peer norms, information for teachers, and making the family and parent connection.
Download book now >>
Nutrition & Activity
Topics include: healthy and fit—it's natural for kids, helping children grow up fit and healthy, what kids need to know, shaping peer norms, information for teachers, making the family and parent connection.
Download book now >>
Safety & Risks
Topics include: keeping kids safe, development issues and special concerns, the big picture: what kids need to know, the power of peers: safe friends and communities, information for teachers, and parents and families helping kids stay safe.
Download book now >>
The Subject Is Sex
Topics include: children and sexuality education, how children learn about sexuality, answering children's questions, shaping peer norms, information for teachers, and parents and teachers as partners.
Download book now >>
---
Reducing Adolescent Sexual Risk

Written by Dr. Douglas Kirby and his colleagues, long known for their groundbreaking work in adolescent sexuality, Reducing Adolescent Sexual Risk helps you design, adapt and select curriculum-based programs to effectively address critical factors that affect adolescents' sexual decision making. This book is appropriate for middle and high school teachers and school officials.
Download book now >>