How to Compensate Young People Fairly and Equitably
Young people bring important knowledge and lived experiences to organizations and surveys and can contribute substantially to decision-making processes. And as such, they should be paid for the time they spend advising and sharing their expertise.
Sounds simple enough, right? But young people may have special circumstances that make receiving funds tricky, like not having access to a bank account, government ID, or understanding of taxes.
Below are some best practices for organizations and agencies working to compensate young people fairly and equitably developed in collaboration with MOASH: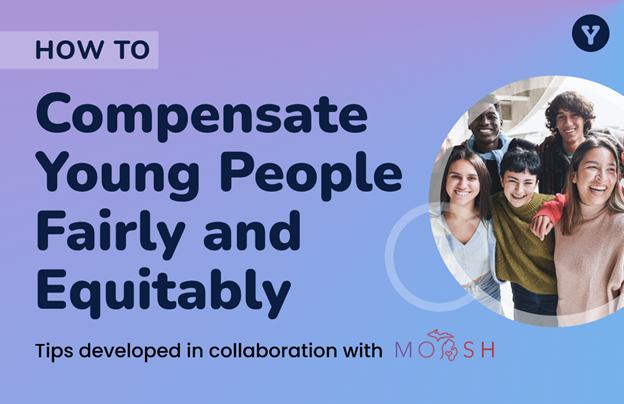 Chose a Payment Method That Works for Them
PayPal and Venmo provide convenient payment options to get money into the hands of young people faster than regular check processing options. This is important because young people may rely on these funds to pay bills immediately. For youth who don't have a bank account, this also ensures that they are not faced with exorbitant fees at check cashing facilities.
The most flexible banks are the ones with the least need for national continuity – often, that means working with credit unions. Not only are credit unions likely to be more invested in their communities, but they also often offer same-day turnaround, have no account minimums, and can accept mobile deposits and payments.

Pay Young People with Real Money
Gift cards benefit a business entity and are ultimately not youth-centered. Compensating young people with gift cards eliminates their agency to practice their own financial responsibility and forces them to make purchases within a specific market.
While cash cards get closer to being cash, they often need to be transferred to a bank account, expire within a short period, and often carry high service fees for the buyers.

Offer Support & Guidance
According to research from Project Vote, 36 percent of Black and LatinX youth do not possess a government ID. Many U.S. banks require two forms of ID to set up an account. Be prepared to help young people acquire identification if needed.
With compensation, it is also essential to ensure young people understand what is considered reportable income, how their payment will be reported to the IRS (more than $600 must be reported on a 1099 in most cases), and how the money will be taxed. If young people are informed about these fees, they may be surprised with a tax bill later that could hurt them financially.

Have Alternative Methods Available
Compensating young people is a process that is more than just one-size-fits-all, so organizations working with young people should make sure to have alternative methods to accommodate any situation. For example, checks may be difficult to cash for youth with limited access to banking, including undocumented youth.
In addition, youth receiving public benefits may face limits to how much reportable income they can receive. Be flexible and offer various options such as housing stipends, cash, gift cards of the youth's choice, or electronic payment services like CashApp or Venmo.

Consider Reimbursing for Barriers to Participation
Some organizations offer to reimburse childcare expenses, mileage, or public transportation. Organizations can also help ensure that youth have access to reliable technology and internet access if needed for participation.

Develop a Pay Scale for Varying Types of Youth Engagement
Developing your pay scale should including asking the following questions:
What is the task?
How complex is it?
What is the time commitment or urgency for the task?
What can we reasonably afford?
Learn More:
Visit https://www.etr.org/yen/resources/ for more resources on youth engagement, sexual and reproductive health, and more.