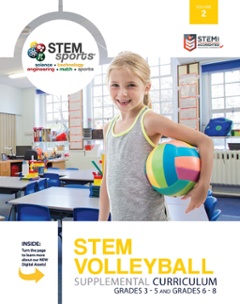 Hands-on method of learning the skills to play and also the STEM fundamentals behind the game
Here is a great opportunity to double up STEM lessons with volleyball in STEM Sports' STEM Volleyball program. This hands-on method of learning the STEM fundamentals behind the game of volleyball will drive students towards their goals of not only becoming better players, but also becoming better students as they will get the answers to the "why" questions that surround the game. The STEM Volleyball supplemental curriculum will assist students' growth and potential both on and off the court through eight lessons that include exercises on:
Learning the science of force, acceleration and mass and Newton's second law of motion
Discovering the technology behind optimal serving speed
Understanding the engineering design process and creating solutions to problems
Using math to measure the area and perimeter of a volleyball court
The net result of the STEM Volleyball program? Students will become critical thinkers, gain cognitive skills and deeper introspection ... and not just during game play. They will learn life skills with transferable, real-life applications during their experience and they will really dig it!
For a sample lesson, click here.