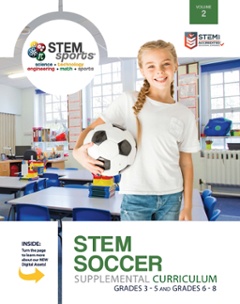 Hands-on method of learning the skills to play and also the STEM fundamentals behind the game
Here is a great opportunity to double up STEM lessons with soccer in STEM Sports' STEM Soccer program. This hands-on method of learning the STEM fundamentals behind the game of soccer will drive students towards their goals of not only becoming better players, but also becoming better students as they will get the answers to the "why" questions that surround the game. The STEM Soccer supplemental curriculum will assist students' growth and potential both on and off the court through eight lessons that include exercises on:
The importance of properly inflated soccer balls and how molecules respond inside the ball
Learning how active play and burning calories correlates
The Engineering Design Process as students create their own goal line technology
Calculating the probability of penalty kicks. Students will be able to predict the number of penalty kicks by using a model from collected data
The goal is to make your students critical thinkers, better problem solvers and skilled collaborators. The STEM Soccer program will do just that and explain the science that is behind the world's most popular game. This program will provide an invaluable assist so that students can lap the field with their STEM literacy and future career paths.
For a sample lesson, click here.