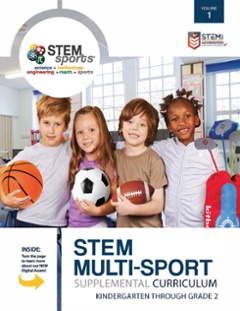 Hands-on method of learning the skills to play and also the STEM fundamentals behind popular games
STEM Sports' Multi-Sport Grades K-2 is a fun and novel way to introduce motor skills, spatial awareness, and movement patterns to students in K-2. When applicable, the lessons have been aligned to NGSS, CCSS, and the National Standards for K-12 Physical Education making this curriculum great to use in the classroom. The modules break down the science aspects of basketball, football, golf, and soccer and provide varying levels of physical activity for the youth involved. Students will enjoy playing sports while learning about:
The behavior of a soccer ball by determining which soccer drills increase and decrease the speed of the ball
Basketball shoe design—and the students will learn about the Engineering Design Process (EDP) by designing their very own shoes
Playing catch and finding the ideal distance between players using the scientific method
How the force of their golf swing relates to accuracy and precision using PGA-licensed ShortGolf® clubs
Hands-on learning through play is a big part of how all STEM Sports' curricula activities and lessons are applied, and none more than with the STEM Multi-Sport Grades K-2 kits, designed specifically for kindergartners, first- and second-grade students.
For a sample lesson, click here.