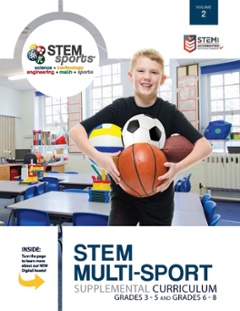 Hands-on method of learning the skills to play and also the STEM fundamentals behind popular games
STEM Sports' Multi-Sport Grades 3-5 & 6-8 is a fun and novel way to introduce motor skills, spatial awareness, and movement patterns to students. When applicable, the lessons have been aligned to NGSS, CCSS, and the National Standards for K-12 Physical Education making this curriculum great to use in the classroom. The modules break down the science aspects of basketball, football, golf, and soccer and provide varying levels of physical activity for the youth involved.
There are multiple ways to experience the unique combination of STEM and sports with the popular STEM Multi-Sport supplemental curriculum kit. With two standardized lessons each from STEM Basketball, STEM Football, STEM Soccer, and STEM Volleyball, your students will learn about the science of sports in new and unique ways such as:
Teaching students how to calculate their own field goal percentage, just like the greatest players in the NBA
Gaining the understanding of energy and motion differences between a youth football and a foam football
Learning how active play correlates with burning calories
Discovering the technology behind optimal serving speed
Through the 5 E's lesson plans and STEM activities, students will develop 21st-century skills such as critical thinking, collaboration, creative problem-solving, and leadership. And preparing them for STEM-based careers and jobs will be offered as every STEM Sports® module comes with a list of jobs paired to the lessons.
STEM Sports® uses sports as the real-life application to drive STEM-based learning in classrooms, after-school programs, and camps and our STEM Multi-Sport supplemental curriculum creates multiple ways to engage young students' minds.
For a sample lesson, click here.