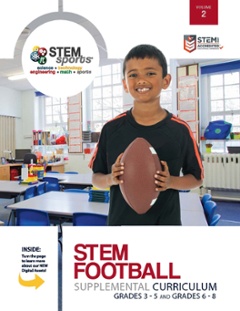 Hands-on method of learning the skills to play and also the STEM fundamentals behind the game
Here is a great opportunity to double up STEM lessons with football in STEM Sports' STEM Football program. This hands-on method of learning the STEM fundamentals behind the game of football will drive students towards their goals of not only becoming better players, but also becoming better students as they will get the answers to the "why" questions that surround the game. The STEM Football supplemental curriculum will assist students' growth and potential both on and off the field through eight lessons that include exercises on:
Gaining the understanding of energy and motion differences between a youth football and a foam football
Exploring how in-game communication technology enables success for NFL teams
Learning about the nervous system and the importance of helmet engineering
Graphing successful pass completions using data related to the use of receiver's gloves
Use STEM Football to kickoff great new methods of learning using the game as the real-life application to drive STEM literacy in classrooms, after-school programs and camps.
For a sample lesson, click here.