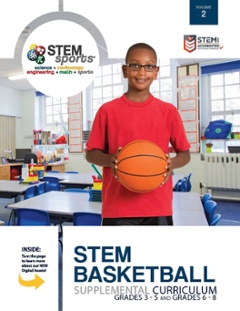 Hands-on method of learning the skills to play and also the STEM fundamentals behind the game
Here is a great opportunity to double up STEM lessons with basketball in STEM Sports' STEM Basketball program. This hands-on method of learning the STEM fundamentals behind the game of basketball will drive students towards their goals of not only becoming better players, but also becoming better students as they will get the answers to the "why" questions that surround the game. The STEM Basketball supplemental curriculum will assist students' growth and potential both on and off the court through eight lessons that include exercises on:
Understanding the contents of a basketball on the molecular level and how temperature affects play

Evaluating the changes that basketball shoes have made over time and why

Engineering their own shooting apparatus to explain some of Sir Isaac Newton's Laws

Teaching students how to calculate their own field goal percentage, just like the greatest players in the NBA
For a sample lesson, click here.