Included with your registration:
Pre-work activities, follow-up support and additional resources, copy of Supporting LGBTQ Youth
valued at $24.99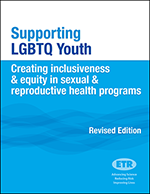 ---
By the end of the training, participants will be able to:
Describe the ways in which discrimination in the school setting can lend to unfavorable health outcomes for LGBTQ youth .
Identify concrete steps to respond to bullying on the basis of gender or sexual orientation.
Describe specific strategies for being inclusive of LGBTQ youth in the classroom and school setting.
Unlike traditional "webinars," ETR's LGBTQ Inclusivity Live Virtual Training offers you the opportunity to:
Engage in meaningful pre-work to prime you for the event.
Interact in real-time with colleagues and the trainer during the virtual training.
Receive follow-up support that includes additional resources to support growth.
---
ETR's Upcoming LGBTQ Inclusivity Live Virtual Trainings
The registration deadline for this training has passed. If you would like to be notified of future trainings, please email Lia Cassanego at liac@etr.org.
Wednesday, February 19, 2020, 12:00-1:30pm PT